Arnett Schools is committed to taking care of and improving our facilities for the students and community; therefore, renovation projects are continuously built into the summer work schedule. This summer, carpet was replaced in the high school and middle school buildings with carpet tiles being chosen so that individual squares could be replaced easily when needed. The summer maintenance employees painted the interior of the high school building so that it now boasts our school colors. Kibbe Building Supply replaced the existing awning in front of the high school, and added extra covering to the band room so that students will have an available route to music class during inclement weather. An additional corridor was included to the front of the elementary school to help cut back on interruptions during class time. Most of the campus received updated countertops with touchless faucets and soap dispensers to offer greater hygiene benefits. Students and teachers are enjoying and benefitting from these recent renovations as the school year has gotten underway.
To entice students to read the new Sequoyah books, Mrs. Tasha is implementing character book talks. Her first selection was the book Stella, which is told from a dog's perspective. Mrs. Tasha dressed up as the young girl from the novel, and with assistance from Mrs. Shoaf, she included our very own therapy dog named Stella to help portray the plot to 3rd-9th graders.
Mr. Hamil and the FFA Officer/Leadership team hosted the first Arnett AG Olympics this past week. 7th-12th graders were bussed to the ag farm where they participated in events such as tug-of-war, hay bale stacking, roping dummies, bucket races, post driving, and feed sack races. There was even a team made up of teachers and staff.
Arnett Schools is proud to partner with Shattuck Sonic who sponsors our monthly students and teacher of the month. Students of the month are recognized for displaying kindness, a helping hand, responsibility, and good attitudes and character. The August students of the month were: Cole Ross-K, Leonela Martinez-K, Spencer Royal-1st, Nikki Clark-3rd, Norah Bryant-4th, and Lola Coleman-6th. Students received a t-shirt, cup, and $5 Sonic bucks to Shattuck Sonic. The August teacher of the month was Alysha Ham. Mrs. Ham teaches 4th-6th grade science and is constantly giving her students hands-on activities and real life experiences to enhance their learning. She has worked hard to bring interactive exhibits to Arnett schools to allow students the opportunity to form even more engaging connections to what they are studying. Stay tuned for more on that next month!
New Staff Spotlight: Tasha Hamil is the new HS library aide at Arnett. This is her first stint in the education setting; however, she has jumped in with both feet and has created a weekly library newsletter, provides library orientations, builds breakout games, produces novel projects, and generates book talks through many different forms. Tasha attended SWOSU, and her background is in marketing. She has an abundance of sales experience and PR work for several companies. Tasha's favorite part about the education setting is that she loves the kids! She expressed that the amount of hugs that are passed out is amazing, and that all work places could benefit from more hugs. Tasha has been married to the Ag teacher, Clay Hamil, for 15 years. They have three daughters, MaKale, MaKenzi, and MaKenna. They LOVE everything ag related, especially stock shows. An interesting fact about Tasha is that she was born in Alaska.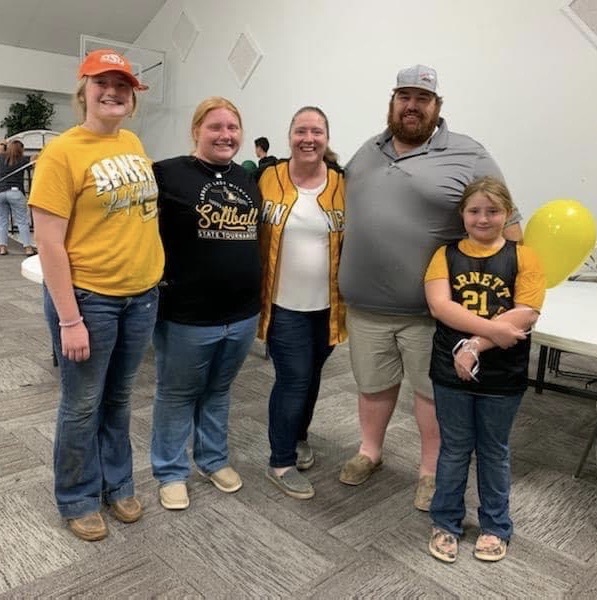 Tasha Hamil is the new high school library aide.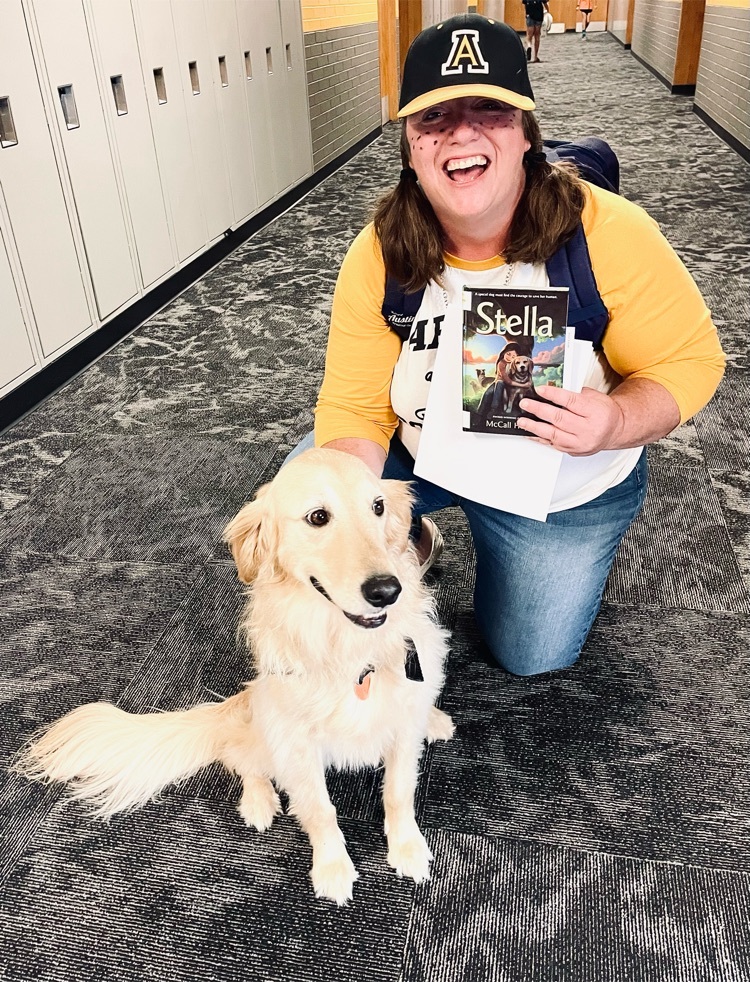 3rd-9th grade classes enjoyed the character book talk over the Sequoyah novel, Stella, performed by library aide, Mrs. Tasha and therapy dog, Stella.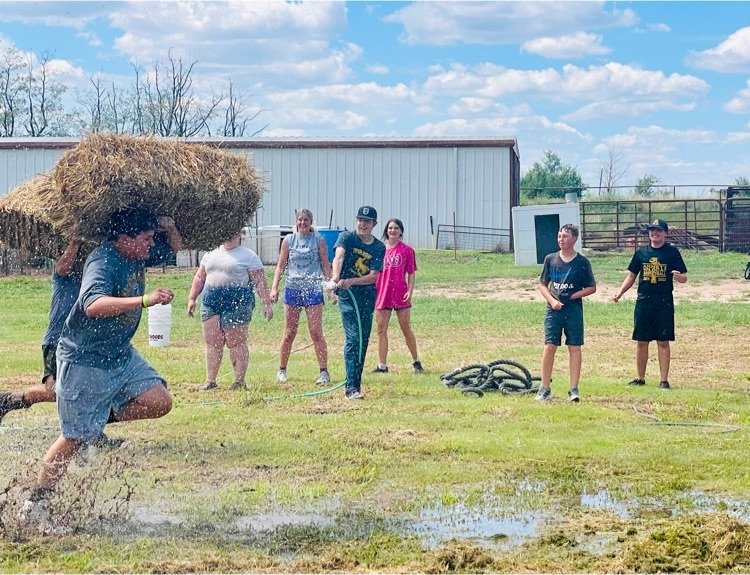 Students participated in the hay bale stacking contest during the Ag Olympics.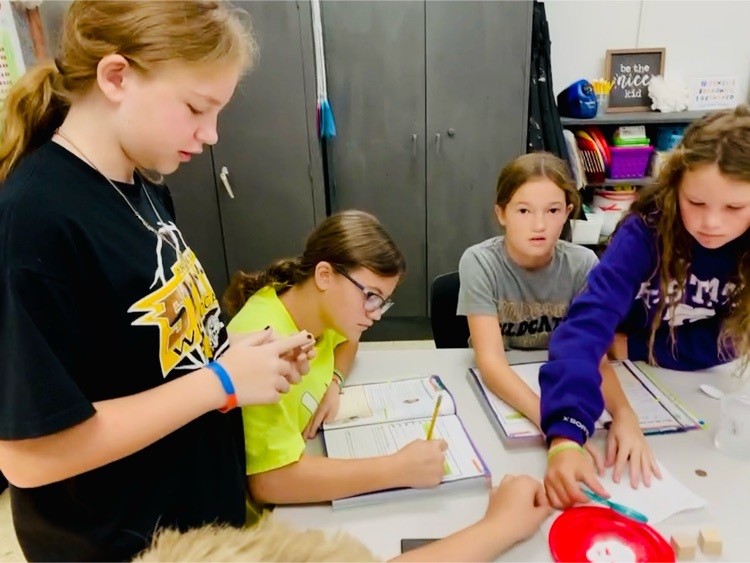 Mrs. Ham's 5th grade science class led their own investigation in the lab. They had to work together and choose 4 different items. From there, they had to come up with which properties they wanted to test. Then they had to create a table with the data they recorded.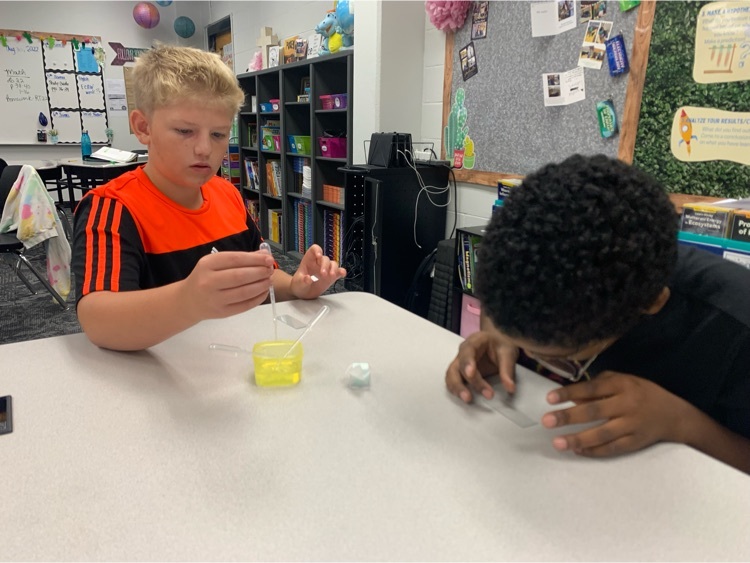 6th grade made their own slides in science and used the microscopes to find living organisms in pond water.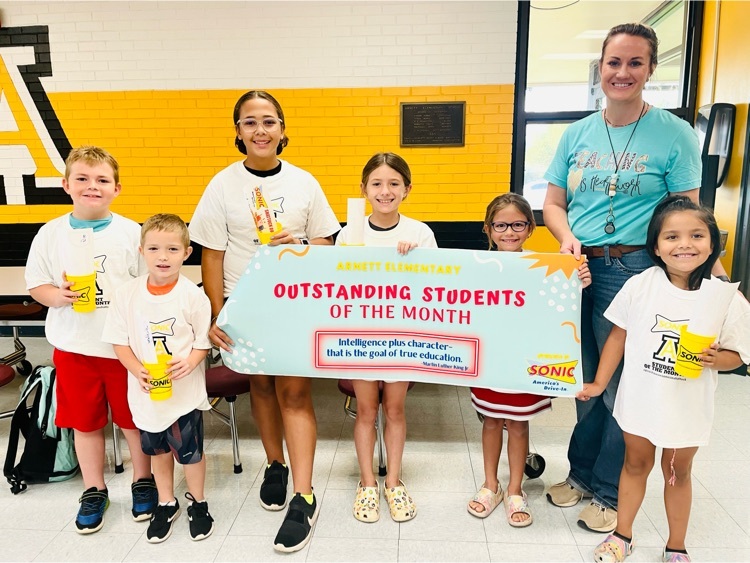 The August students of the month from L to R: Nikki Clark-3rd, Cole Ross-K, Lola Coleman-6th Norah Bryant-4th, Spencer Royal-1st, Alysha Ham-Teacher of the Month, and Leonela Martinez-K.