This week at Arnett Public schools, the students were fired up and ready to cheer on the lady Wildcats. Monday we started off with finishing the Regional Tournament hosted in Beaver. Our girls took on the Lady Leedey Bison for the second time this season. The first time the girls met them during the regular season, we won by a good spread. Monday night the girls played hard but came up with a loss moving us to the losers bracket for the Area Tournament.Wednesday during 5th grade science, the 5th graders planted radish seeds in several different test tubes. After planting, each container was covered with different colored cellophane paper. The students are comparing the plant's growth to see which grows best and how they are affected by different colors and wavelengths of light.
On Thursday, students finished turning in their pull tabs for the Beta service project. It was a competition between classes. The first grade barely finished first with 40.75lbs of pull tabs. The entire school collected 196.4lbs. Also on Thursday, the Arnett Lady Wildcats headed to round one of the Area Tournament. We faced off with the Kremlin Hillsdale Lady Broncs. The first half was a little rocky, but the second half we came out on fire. The girls were pumped and ended with a 73-57 victory.
In the second round of Area on Friday night, we played the Dover Lady Longhorns. We battled through a close game until the 4th quarter. We finally pulled ahead and came out on top with a 66-49 win.
Saturday brought the final round of Area, and we knew we had a tough game ahead. We were facing the Leedey Lady Bison again for the Area consolation championship. It was the last game standing in our way of the state tournament. Both teams came fired up and looking to punch their ticket to State. We battled down until the final buzzer, but unfortunately we ended up losing 64-74 in a heart wrenching game. The Lady Wildcats had an amazing season with a record of 26-4. We are very proud of you!
Along with ball games this week, the Woodward District Livestock show was continuing on. We had several students place and take home titles from the gilt and barrow show. Brooklyn Vincent earned Reserve Champion Duroc Gilt and Grand Champion Cross Barrow and Carlie Dowler won Reserve Champion Spot gilt. Arnett was also represented well in the showmanship class. Brooklyn Vincent, Kenzi Hamil, and Hallie McCartor all won their showmanship division. Madison Haney won her class with her Doe. Along with showing, we were well represented by some of our FFA members who were part of the Woodward District Livestock Show social media team. McKale Hamil, Kenzie Hamil, Landree Parsons, Emma Knowles, and Brianna Marenco all had the opportunity to spend the day at the show and report results on the official facebook show page. They all did a fantastic job keeping everyone updated.
The Arnett Beta club has started another project this week. They are collecting donations for military care packages to send off. If you would like to donate, there is an attached list below.

UPCOMING EVENTS:
Feb. 18-28th
Woodward District Premium Livestock Show & Sale
Tues., Feb. 28th - Breakfast
with Buddies
Tues., Feb. 28th
- HS baseball vs. Forgan
Fri., March 3rd
- HS baseball @ Cimarron
March 5th-7th
- State Beta Convention
Sat., March 6th
- JH and HS baseball @ Fargo
Sat., March 6th
- Sonic Fundraiser Night in Shattuck
Sun.,
March 7-17th
- Oklahoma Youth Expo
Tues. & Wed.,
March 8-9th
- Parent Teacher Conf.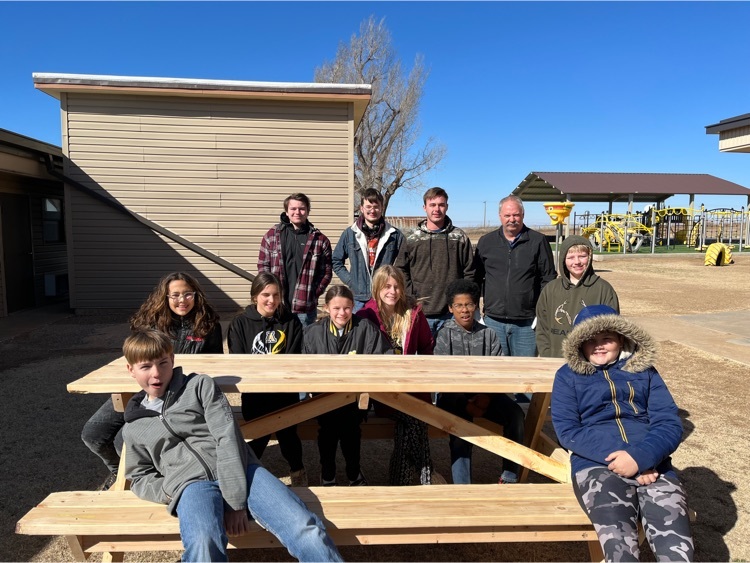 Standing in the back are TSA students Jacob Hajny, Clayton Range, Dakota Rumley, and Mr. Ford. Not Pictured Monty Wilson.
Seated in the back from left to right: 6th graders, Lola Coleman, Lauryn Bayless, Hallie McCartor, Bella Booth, Adante Smith, Levi Starkey
Front: Josh Campbell and student.
In addition to using their "Coffee Corner" earning to purchase Angel Tree Christmas gifts, the 6th grade math class "hired" Mr. Ford and his TSA Students to construct a picnic table. The table is right outside the gymatorium in the middle of the campus for all students and faculty to enjoy. They are so proud and excited to provide this to Arnett School!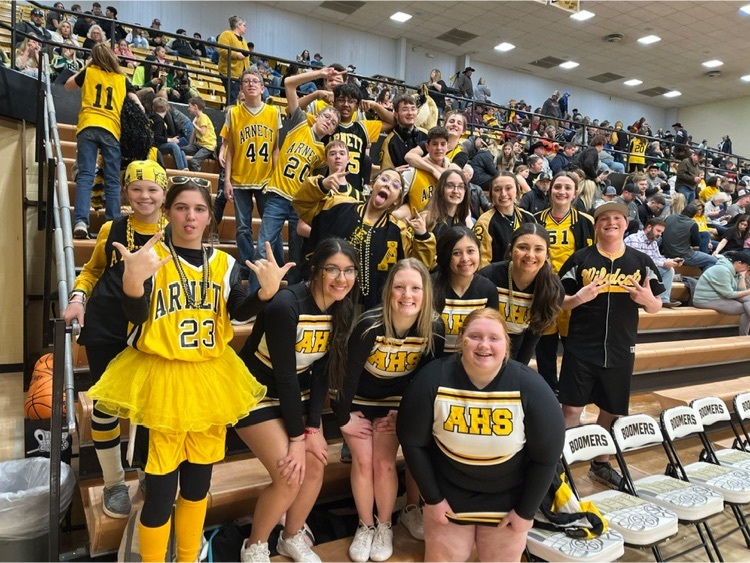 Our cheerleaders with part of our student section
Thursday night
at the Area ball games.
Madison Haney with one of her does while at the show in Woodward.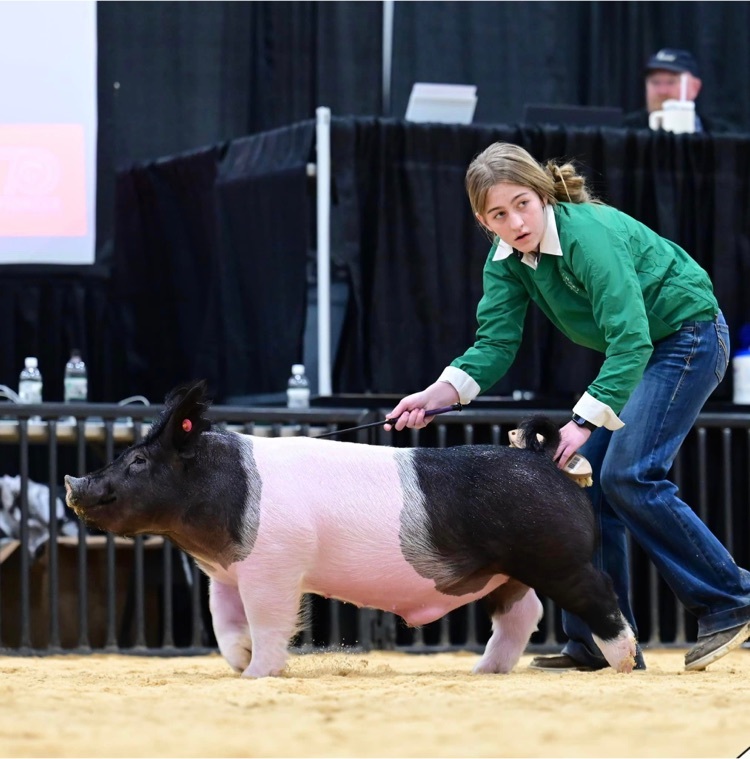 Brooklyn Vincent showing her Grand Champion Cross Barrow at the Woodward District Livestock Show.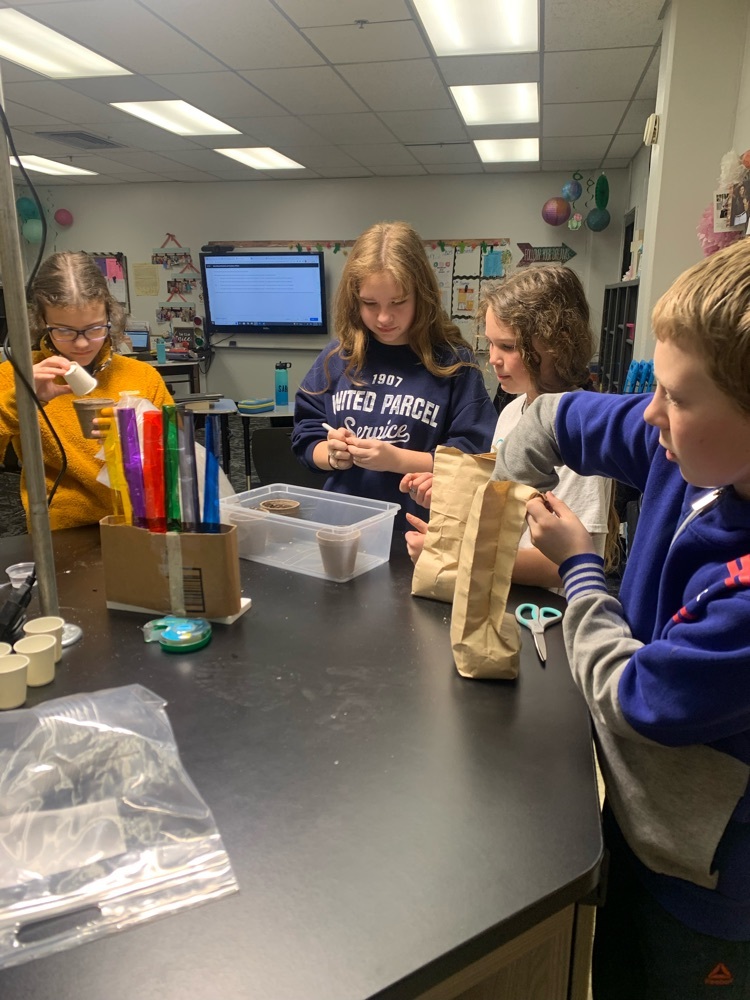 5th graders, Carlie Dowler, Leilani Daniels, Alex Strick, and Sabe Williams, setting up their plant growth lab with different wavelengths and colors of light.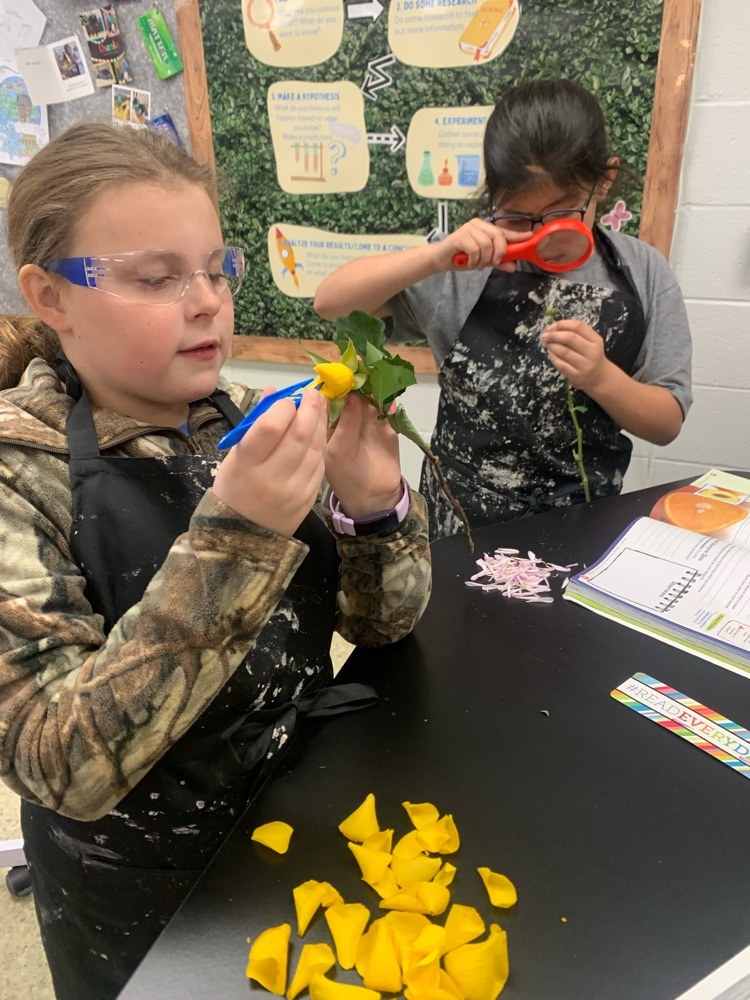 4th graders, Susan Berrios and Aaliyah WhiteEagle dissecting flowers during science class. They are learning about the internal and external structures of plants.